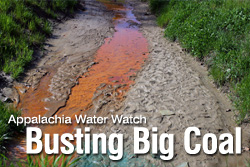 The WaterWatch team at Appalachian Voices has teamed up with organizations and legal groups to launch legal action against three coal mining companies for violations of the Clean Water Act.
Unbelievable in this day and age, I thought, when my assistant, Eric Chance, and I researched discharge monitoring reports from Kentucky and discovered potential instances of falsified information from three coal companies working in that state.
As a 13 year veteran Waterkeeper I've seen hundreds of ways polluters violate the Clean Water Act, but I had never seen this. With a sick feeling in my stomach, I thought this must be an anomaly or a mistake, and that no one would violate the clean water act this blatantly.
On a mission to find the truth, we looked over hundreds of documents and eventually found and total of over 20,000 instances where the coal companies either falsified the required monitoring data, exceeded permit pollution limits or failed to submit required test data. If fined the maximum allowable by the Clean Water Act, these violations could result in fines over $740 million.
With each successive violation discovery, we became more determined to hold the polluters accountable. Waterways in Appalachia aren't just home to some of the most rare and biodiverse aquatic life communities in the world—they also supply drinking water to thousands of people. Whether that water originates from a "spring box up in the holler" or out of a small drinking water plant on the Levisa Fork of the Big Sandy River in Paintsville, Ky.,—it supplies families, schools and businesses with their basic daily need for clean drinking water. Like all people throughout the United States, these residents hope their water is clean, safe and free from toxic heavy metals or other deadly cancer causing pollutants.
The discovery of potentially falsified reports was made worse when, after the first three months of research, we could find no evidence that anyone in the alphabet soup of government agencies (DMRE, OSM, DOW) had discovered the violations and held the mining companies accountable, even though the pattern of violations spread over multiple months. It became obvious that we could not rely on government agencies to do their job to protect the public's right to clean water, and would have to do the work ourselves.
Appalachian Voices joined forces with Kentucky Riverkeeper, Kentuckians for the Commonwealth, Appalachian Citizens' Law Center, Waterkeeper Alliance, Pace University Environmental Litigation Clinic, Capua Law Firm and Waterworth, PA, groups who like us believe that clean water is fundamental to healthy communities. None of them hesitated to join this case, and all have worked shoulder to shoulder with us for the last four months.
Today is the day when our team collectively takes action to defend Appalachia's waterways. It will be a long road to bring these coal companies to justice for violating the Clean Water Act, but we will stay the course. Because everyone in America deserves the right to clean drinking water free from pollution, and coal companies who pollute and don't respect the law should be held accountable.
Click here to see the press release.
To view the three notice letters click each below: