Although I am not a native of WV, I love this place and its people. West Virginians are hard working, modest people who unfortunately sell themselves and their state's resources short. What follows is a saga of selling out a football game to the Coal Companies, without a competitive bidding process. This is the story of how the intrastate football rivalry became "The Friends of Coal Bowl." While the story probably won't make the national wire, it is an important illustration of the power of the big energy companies. It will be a long hard road to cleaning up American politics, energy and the environment, because we sell out so cheap every time.WV loves its football, and it has two University Football Programs that have produced some remarkable teams, coaches, individual players and an astonishing loyal fan base: West Virginia University Mountaineers and the Marshall University Thundering Herd. We live in small towns in a rural state, and football is both big time entertainment and an economic boom for these towns.
West Virginia University in Morgantown had a great run last year: number 3 in the nation, with an upset 38-35 victory in the Nokia Sugar Bowl in Atlanta against the heavily favored Georgia team with the home-field advantage. This football game was played out against the national news coverage of the Sago Mine Disaster- Governor Joe Manchin left Georgia and missed the game to return to the state to personally manage the crisis response. I have never been so proud of a team- they just wouldn't give up. Last year they had some of the most amazing come-back victories and they are poised to have another great year. WVU has had some other fantastic teams, including 1993 and 1988, but 2005 team won the big bowl game, so they were really greatest WVU team ever.
Marshall University in Huntington is perhaps best known for its football, both for an incredible tragedy and a remarkable comeback. In 1970, bad instrument settings and a rainy November night led to a deadly plane crash into the mountains surrounding the TriState Airport.
75 people perished in the plane crash: 37 players, 12 coaches and university staff members, 5 crew members and 21 townspeople who were big fans and flew on the chartered team plane. This crash remains the single largest sports-related disaster in U. S. history. Tragically, 70 minor children lost one parent, and 18 children lost both parents. The town of Huntington and Marshall University were devastated by the loss- no one was untouched. I recommend reading the heart wrenching article "Its Always With You" on the aftermath in the community. It is written by Huntington native and Marshall graduate Julia Keller, who won the Pulitzer Prize in 2005 and is a three-hanky read.
Astonishingly, Marshall put together a football team for the 1971 season, that came to be known as "The Young Thundering Herd". There were walk-ons, freshmen, and a few players who had missed the plane. On the 30th anniversary of the crash, local documentary filmmakers made a film shown on lots of PBS stations called "From Ashes to Glory" which told the moving story of the come-back. Keith Morehouse, a local sportscaster, wrote in a review of this film:
"There was talk within the community to forget about football, the memories too tough to handle, the games too tough to win. But Marshall pressed on, hiring Jack Lengyel from Wooster College in Ohio, to lead the Young Thundering Herd. The football season was a painful one in 1971 – loss after loss and the whispers followed. Could Marshall ever win another football game? That question was answered when the Young Thundering Herd—comprised of walk-ons, and freshman, and others who had no business playing college football—beat Xavier 15-13 on a last second touchdown pass. The players exalted on the field, the fans cried in the stands. Marshall football had withstood a devastating tragedy and resurrected itself."
Keith's father was a sportscaster too, and died in the plane crash. There is a Warner Brothers film named after the school's cheer "We Are…Marshall" being made of this story. It will premier this December in Huntington. It was filmed on campus with many local people cast as extras and lots of local scenes.
Marshall has gone on to some remarkable victories and has climbed to NCAA Division IA after its national championship 1992 season in NCAA Division IIA where they were a powerhouse. In 1996 they had an undefeated season and one of the best NCAA IIA teams ever. They were the football team with the most wins in the 1990s, and they have produced some great players in the NFL today: Randy Moss, Chad Pennington, Byron Leftwich, and now Darius Watts. Coach Bobby Pruett was a former Marshall player who recently retired with a remarkable 94-and-23 win-loss record.
As in all states with two football programs, there has been some interest in getting the teams together for an annual game. Florida/Florida State; Kansas University/Kansas State: These are some great games.
WVU has resisted for years, citing financial reasons. WVU has a huge stadium, holding 65,000 (roughly twice the size of Morgantown). Marshall has a smaller stadium, holding 38,000. That's a lot fewer tickets to sell to pay for athletic programs. Marshall has done well nationally by getting ESPN coverage. In the 2000s Marshall had some excellent Bowl games, two players nominated for the Heismann Trophy, and last year joined Conference USA. In Huntington, Marshall fans insinuated that WVU was afraid to play Marshall, since Marshall might win. Marshall has really turned up the gas in the basketball rivalry game, which plays in Charleston on neutral ground and beat a WVU team with a better record the last two outings.
When Governor Joe Manchin ran in 2004, word on the street was that as a WVU grad (and a huge football fan) he would favor funding for WVU over Marshall. There was even a more Marshall friendly Democratic primary candidate vs. a WVU friendly candidate. Manchin made one of his first priorities setting up the Marshall University/WVU game and leaned hard on WVU to deliver the game. This was an extremely popular decision.
Under terms of the agreement for the seven-game series, Marshall will visit Morgantown's Mountaineer Field at Milan Puskar Stadium in 2006, 2008, 2011 and 2012 while WVU will visit Huntington's Joan C. Edwards Stadium in 2007 and 2010. The host school for a 2009 match up will be the winner of two of the first three games in the series.
Everyone knows the game will be popular and even much watched on television. Both teams are playing for bragging rights, and either team could win. Anyone with half an ounce of creativity could predict this game will be called "The Coal Bowl" since that is the product WV is best known for. Should be a great game, right? A football fan like me should be happy. But….
It will have a sour taste for me and many other West Virginians this year. The power brokers in the state just gave a no-bid award to "The Friends of Coal" to sponsor "the Friends of Coal Bowl."
And what does Governor Manchin have to say about this?
"I am so pleased that a sponsor like Friends of Coal has now stepped up to take this game to a level of national prominence similar to the great in-state rivalries of such schools as Florida-Florida State, Alabama-Auburn and Clemson-South Carolina," West Virginia Governor Joe Manchin said.
How much did this cost? Roughly 1 million dollars for 7 years which the two schools will split.
That is $140,000 each of the first two years, then 5 percent more — $147,000 — during years three through five, and an additional 5 percent, or $154,350, in years six and seven.
Roughly $75,000 per school per year. A drop in the bucket compared to the number of times "Friends of Coal" will be said on the national airwaves for 7 years. Right now, it is definitely a national ESPN game- WVU is picked to be a top 5 team and Marshall is always a good ESPN draw- they are the little team that could. A mini Green Bay among major college teams and a sentimental favorite. Plus, there will be a huge tie in to marketing the up-coming movie.
What does "Friends of Coal" get for all this?
A game logo that features the Friends of Coal emblem and helmets representing both universities' football teams was also unveiled. The contest was named the Friends of Coal Bowl in honor of the more-than-50,000-member grassroots organization that supports state's coal industry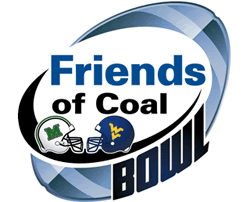 In other words, a constant barrage of publicity in the state and around the country, especially this year when the Coal Industry looks exceptionally greedy and uncaring. Why were they interested? The Charleston Daily Mail reports:
"Shortly after Gov. Joe Manchin announced in May 2005 that the schools would play the series, the coal association called to express interest in naming rights, Parsons said.

"They are the ideal sponsor," Parsons said. "They represent one of the leading industries in the state. Many of their members are supporters of both schools already. It is an opportunity to enhance their image in the state."
Yes, an opportunity to enhance their reputation- and sell out West Virginia for very little. Others weren't given the opportunity to bid on the deal- not the huge power companies or prosperous banks. These folks just figure a million dollars was a good deal for buying some helmet logos. And did the state get the best sponsorship deal possible? After all, we are a poor state- we should shop our intra-state football game and get the best deal at least. Nope. We went right to the coal people- or else we just smiled and signed on when they waved a million dollars in our face.
Denise Giardina is a local novelist who has written some excellent historical novels about life in the coalfields of West Virginia. Her local alma mater, West Virginia Weslyan writes about her
Her two "Appalachian" novels, Storming Heaven and The Unquiet Earth, are critical of the power of the coal companies (and the politicians who empowered them) and lift up the struggles of the miners for union recognition and human rights as a kind of holy war — a fight to reclaim the inheritance of a people from those who have conquered and degraded it.
Ms. Giardinia is a politically active progressive, and ran for Governor on the Mountain Party as a third party candidate in 2000
She feels passionately about mountaintop removal.
She wrote a moving Letter to the Editor in the Charleston Daily Mail yesterday which I have excerpted heavily because the link won't stay active long.
Shame on both schools for allowing this, and shame on the Daily Mail for a promotional front-page headline when an article reporting crime would be more appropriate.

It would be wonderful to have a Coal Miners' Bowl to memorialize our miners past and present. But the Friends of Coal are the folks responsible for those mining deaths over the decades.

And what they will have in mind is a "celebration" of mountaintop removal, which is carried out by heavy equipment operators, not coal miners.

Mountaintop removal is an immoral activity that destroys mountains, trees, streams, wildlife and people.
In other words, it destroys West Virginia.

How this horrible destruction of the state can be tied to a football game is beyond me. But it has certainly ruined the game for those who love West Virginia.
Who are The Friends of Coal?
The Friends of Coal is dedicated to informing and educating West Virginia citizens about the coal industry and its vital role in the state's future.

Our goal is to provide a united voice for an industry that has been and remains a critical economic contributor to West Virginia.
Yes, they are lobbyists and PR hacks and proud of it. They are trying to convince the state that coal mining is good for them. So buying the most popular, most hyped sporting event in the history of the state, on the eve of its best nationally recognized game (great teams, great human interest), well that is some brilliant marketing. I have to admire the guy who thought this one up. It is so logical and yet so venial and cheap.
And what is Mountaintop removal? A blight on our landscape AND on our economy: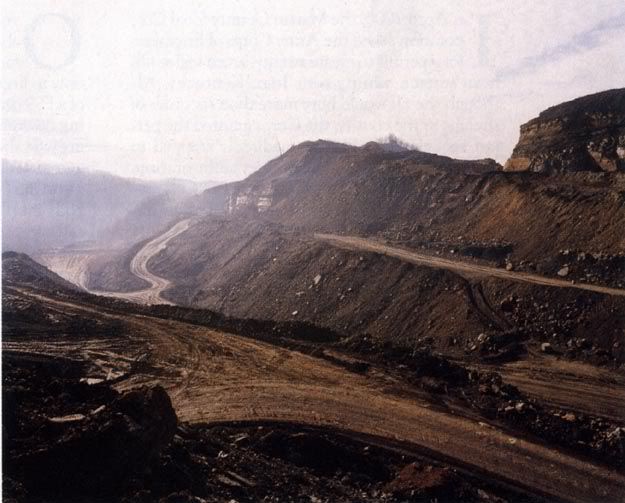 This is a picture from the great and sad book "Lost Mountain" by Eric Reese.
Publisher's Weekly said of this book:
Reece's up-close assessment of a rapacious coal industry is a searing indictment of how a country's energy lust is ravaging the hills and hollows of Appalachia. The first-time author chronicles how, in one year, from October 2003 to September 2004, strip miners sheared away the top of Kentucky's aptly named Lost Mountain. This process of "mountaintop removal" left a barren wasteland that, months earlier, had supported songbirds, fox, deer and other wildlife, and a rich cover of trees. Reece's elegiac book–much more than just an eyewitness report on ecological decimation–also offers a concise history of how the coal industry long exploited workers; hints at harrowing tales of industry intimidation of antimining activists; details how toxic mining runoff has poisoned well water and how landslides have washed away homes and entire hamlets; and in a cautiously optimistic coda, reports how activists have reclaimed a few thousand acres of stripped land with reforestation projects. The Kentucky-born author, who canoed clean Appalachian rivers as a youth, has written an impassioned account of a business rife with industrial greed, devious corporate ownership and unenforced environmental laws. It's also a heartrending account of the rural residents whose lives are being ruined by strip-mining's relentless, almost unfettered, encroachment.
I haven't finished the book yet- I keep crying. I have driven the back roads of Appalachia and seen first hand what the devastation is. I have traveled from Charleston and Huntington airports and flown over these mines. Here is what sludge looks like: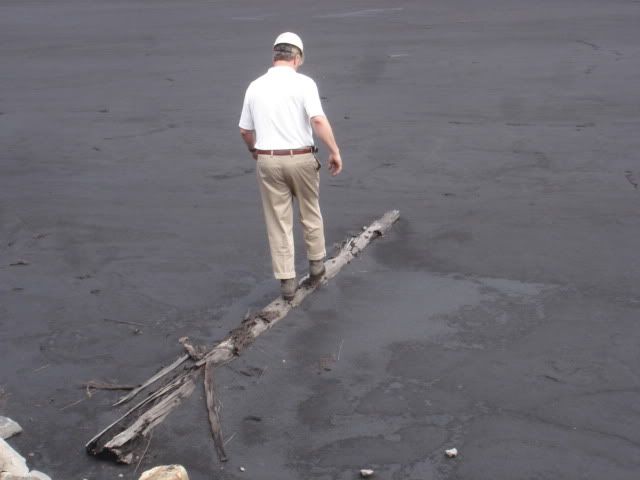 You get sludge from washing coal. It can spill and wipe out all the fish and people, as with the Buffalo Creek Disaster.
Here is what strip mining looks like: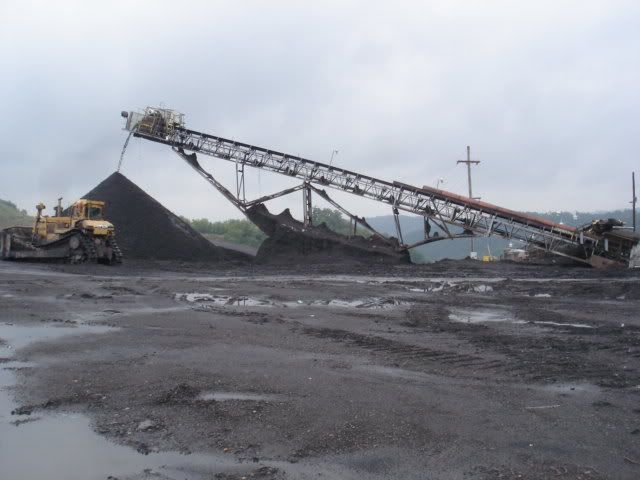 They are creating deserts of coal. And the coal merchants sold out West Virginia to get Bush elected so he could neglect enforcement of environmental and safety laws on the books. John Roberts is Supreme Court Justice so the courts will overturn environmental laws that would cause these coal companies to have to remediate after blowing the tops off mountains and plowing the waste into the streams and valleys. He was a mine company lawyer. It is everything for the coal barons and nothing for the people who work and live near these mines. Counties with mines suffer economically! It is like waiting for Wal-Mart to fix your retail employment problems. Looks like good salaries for a few, but it destroys everyone ultimately.
In the words of Colleen Anderson's song, West Virginia Chose Me. I moved here 7 years ago this month to take a job teaching in one of these universities (you might guess which one). I love football and I was excited by the game- which I certainly would watch and maybe try to attend. Now, I have a bitter taste over this sell-out. I am disappointed in Governor Manchin and both schools for selling out, and selling out so cheaply.
I just hope they don't bring in the Appalachian Power (Local 1A baseball Team) Dancing coal and flames mascot. That would make me puke. I predict the half-time show will include a tribute to lost miners, and there will be fund-raising for the Sago Mine Disaster families as the throngs enter the stadium. The ultimate in image restoration for the "Friends of Coal".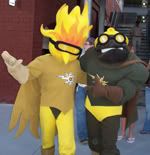 Welcome to Appalachia The National Sacrifice Zone and watch them try and make us happy with their clever sports marketing.
Please recommend if you can. This is a local story that tells us all how hard it will be to fight and win, when it costs so little to buy out our leaders who should know better. Donate to a local campaign to try to make up in numbers what we can't make up in $$$ vs. the Bush administration and their economic overlords.