Appalachian Voices is committed to a clean energy future for the state of Virginia. With support from members and volunteers across the state, we work with communities where our energy future is being decided. We opened our Virginia office in 2007 and are working to end the construction of new coal-fired power plants, promote energy efficiency and renewable energy, and stop mountaintop removal coal mining. We envision an energy future for Virginia that preserves and respects the rich natural and cultural heritage of the state's mountains.
In 2007, Appalachian Voices partnered with the Southern Appalachian Mountain Stewards, the Chesapeake Climate Action Network, the Sierra Club, and the Southern Environmental Law Center to form the Wise Energy for Virginia Coalition. The Coalition is organizing tremendous numbers of concerned citizens from every corner of the state against coal-fired power plants and mountaintop removal–and for a clean energy future.
Fighting a Massive Coal Plant
Appalachian Voices' Virginia team is focused on defeating a proposal by the Old Dominion Electric Cooperative (ODEC) to build a massive new 1,500-megawatt coal-fired power plant in Surry County, Va.
The Surry plant would be the single largest coal-fired facility in Virginia and would depend on coal from mountaintop removal operations. The plant would be located upwind of the 1.8 million residents of the greater Hampton Roads area in southeastern Virginia, approximately thirty miles from one of the world's most biologically diverse estuaries, the Chesapeake Bay. The plant would exacerbate ground level ozone and soot pollution in Hampton Roads–which cause increased hospital visits, asthma attacks, and premature death–and its nitrogen emission would increase "dead zones" in the Bay.
ODEC is aggressively promoting this behemoth $6 billion plant, despite the severe impacts its operation would have on both the Tidewater region and the central Appalachian mountains where the coal would be mined.
Appalachian Voices is determined to prevent this proposed project from coming to fruition by exposing the danger and imprudence of constructing another coal plant in Virginia. As part of that effort, we are working to educate the public and elected officials in Hampton Roads about the negative health and environmental impacts of ODEC's proposal. We are also working to highlight the fact that construction of a new coal-fired power plant is an exceedingly risky investment for electricity consumers. This is explained in a report from Synapse Energy Economics entitled "The Financial Risks to Old Dominion Electric Cooperative's Consumer-Members of Building and Operating the Cypress Creek Power Station."
Plans have been scrapped for over 150 coal plants across the country in the last few years and we are working to add ODEC's proposal to that list. If you want to help, please sign up for alerts from WiseEnergyforVirginia.org
Promoting Efficiency and Renewables
Appalachian Voices also works to bring to light the benefits of energy efficiency and renewable energy for Virginia. During the 2009 Virginia General Assembly session, we made a major push to advance energy efficiency in the Commonwealth.
Together with partner groups, we secured the passage of landmark legislation to increase electric utilities' incentives to invest in efficiency programs. This legislation–combined with the public pressure we've worked to generate–has led to the state's first significant utility efficiency investments, which will reduce pollution and the demand for mountaintop removal coal, while saving consumers money and creating jobs.
While Virginia utilities are currently tapping into just a fraction of the state's full energy efficiency potential, we have achieved a real change in the way politicians, regulators, and utilities view efficiency as a resource. This victory provides us with a foundation for further progress toward a future where investments in clean, sustainable energy create high-quality jobs and our state's mountains and waterways are no longer sacrificed to generate our electricity.
Ending Mountaintop Removal
In Virginia alone, over 156,000 acres of Appalachian temperate hardwood forest have been destroyed by mountaintop removal coal mining. After mountaintops are blasted apart, the resulting waste is pushed into adjacent valleys, burying streams. To date, over 150 miles of Virginia streams have been destroyed by the practice. In Wise County, Virginia, over 25% of land has been devastated by strip mining.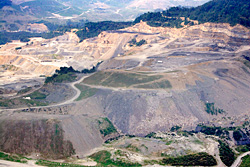 Virginians committed to defending the state's mountains continue to play a key role in Appalachian Voices' efforts to pass the Clean Water Protection Act at the federal level. This legislation would prohibit coal companies from burying streams beneath mining waste, curtailing the practice of mountaintop removal.
In Virginia, we are concurrently working with the Southern Appalachian Mountain Stewards and other partners to prevent the destruction of Wise County's Ison Rock Ridge, near the town of Appalachia. In 2010, the Virginia Department of Mines, Minerals and Energy (DMME) announced approval of permits for a mountaintop removal operation on the 1,230 acre site. However, the U.S. EPA has unresolved objections to the operation, making it illegal for the DMME to issue these permits. We are working with citizens across Virginia to support strict adherence to environmental standards that will prevent this mountaintop removal operation and keep Ison Rock Ridge standing. Take action to save Ison Rock Ridge.