Advertise
The Appalachian Voice is a free quarterly, full-color newspaper that has covered environmental, outdoor, and cultural news in the Appalachian mountains since 1996. We provide thorough and well-researched environmental news coverage to fit a niche not often covered by standard news media, and deliver this to a broad spectrum of readers in locations that span nine states.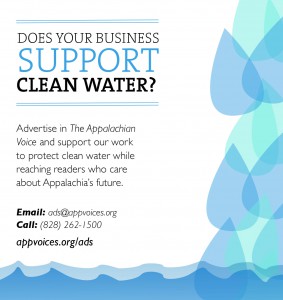 The Appalachian Voice has an estimated readership of 140,000. We distribute approximately 70,000 copies, with each issue mailed directly to approximately 1,500 individuals, businesses and organizations, and our network of volunteer distributors delivering the remainder to more than 400 locations in Georgia, Kentucky, Maryland, North Carolina, Ohio, South Carolina, Tennessee, Virginia and West Virginia. The Appalachian Voice can be found in grocery stores, restaurants, welcome centers, outdoor sporting shops, and other outlets in our distribution region. View a map of our distribution locations here.
Ad rate sheet and schedule (pdf)
Email ads [at] appvoices.org or call Molly at 828-262-1500 ext. 665 for more details.
AD DESIGN: We offer free, in-house ad design for basic or simple ads. Design work that requires extensive time may be subject to additional costs. SUBMITTING CAMERA READY ADS: Ads must be properly sized and saved as PDF (preferred) or TIFF format. Ads must be in CMYK mode. Email finished ad to ads [at] appvoices.org
*Rates are subject to change. We reserve the right to accept or deny advertising based on our organizational mission