The Status and Impact of the Mountain Valley Pipeline

With the most difficult and risky work remaining, the project is far from complete
This report released on Sept. 20, 2022 and updated in January 2023 details the unique and complex obstacles standing in the way of completion of the Mountain Valley Pipeline, despite its backers' false assertion that construction is nearly complete.
"The Status and Impact of the Mountain Valley Pipeline," describes the work ahead for the pipeline project, including 429 water crossings, which are among the most difficult parts of a pipeline to construct. The Mountain Valley Pipeline is currently 55.8% complete to full restoration, and is still lacking authorizations from four federal agencies.
Communities along the pipeline route have already experienced harms such as degraded drinking water, damaged farmland and harm to Indigenous sacred sites. With 75% of the project routed through land that is "moderately high" or "high" landslide risk, people living nearby face safety risks if the pipeline is ever put in service.
---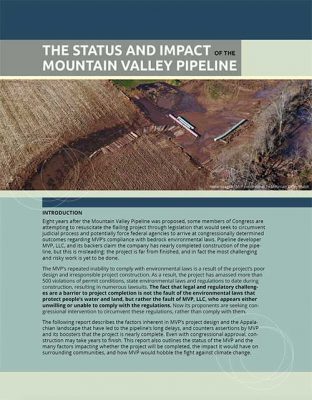 This report was developed by Appalachian Voices with contributions from the POWHR Coalition and the Sierra Club.