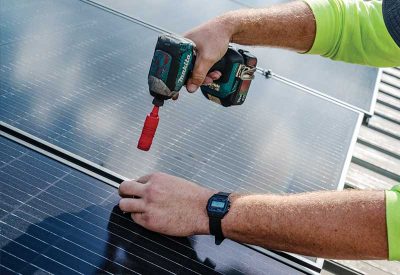 Renewable energy and economic development in historic coal communities
Appalachian Voices was thrilled to receive an Appalachian Regional Commission award and co-launch the Appalachian Solar Finance Fund in the fall of 2021. This fund is financing the installation of solar panels across six states in Central Appalachia. With our partners at the Central Appalachian Network, we are bringing millions of dollars in much-needed investments in clean energy. The fund is eliminating barriers to low energy costs by providing grants and technical assistance to local non-profit organizations, schools, and small businesses.
As part of the Solar Finance Fund, we've partnered with local community colleges to launch the Solar Accelerator to provide on-the-job training for new solar industry workers in coal-impacted counties. Additionally, our Energy Storage and Electrification Manufacturing Jobs project continues to help legacy coal manufacturers in Southwest Virginia expand and evolve their businesses to meet the demand for a clean energy economy. Appalachian Voices is working with four companies to retain and create 200 jobs supporting solar and electrification where coal is in decline.
Over the coming years the Appalachian Solar Finance Fund will support over 60 projects that will:
• create over 280 jobs
• generate 5 megawatts of clean energy
• save $5.4 million in energy costs
In addition to our strides on commercial and public buildings, we relaunched our Residential Solarize program in Southwest Virginia, providing over 100 assessments to interested homeowners about how solar can work for them. Fifteen residential systems have already been installed from the program.
Advancing environmental justice
We're lifting the voices and issues of Appalachians to the highest power in the land
Appalachian Voices' Executive Director Tom Cormons was appointed to the White House Environmental Justice Advisory Council in early 2021.
His service on the council is helping America realize the Biden Administration's Justice40 pledge — ensuring that 40% of benefits from climate and clean energy investments are made in places that need them most, including those heavily impacted by fossil fuel extraction and use in Appalachia.
This profound engagement at the federal level is informed by our work locally and regionally to advance inclusive, equitable solutions to the climate and energy crisis. Tom's service is not only advancing our policy recommendations with Congress and the White House, but is also bringing the voices of Appalachians to the forefront.