In 2014, the General Assembly rushed through a bill without public notice lifting North Carolina's long-standing moratorium on fracking. In addition, the bill, signed by Gov. Pat McCrory that June, makes it a crime for anyone to reveal what chemicals are used in the practice.
Allowing the gas industry to tap new deposits in N.C. would squelch investments in truly clean energy options.
The state's industry-dominated Mining and Energy Commission completed regulations for fracking in November 2014, and the first permits could be issued as soon as April 2015, making the Tarheel state a new frontier for fracking.
The gas industry has identified several deposits in central North Carolina, but the geology in other parts of the state also indicates potential deposits, including in Stokes and Rockingham counties, and Jackson, Haywood, Macon, Swain, Cherokee, Clay and Graham counties in western North Carolina.
North Carolinians
Don't Want It
Citizens all across the state are raising their voices in concern, and numerous community groups — such as the Frack Free NC coalition — have organized around the issue. Without a strong regulatory framework, fracking could pollute our air, drinking water and other water resources. It could also depreciate property values, and the truck traffic could pose a safety risk to nearby neighborhoods.
Moreover, allowing the gas industry to tap new deposits in North Carolina would squelch investments in clean energy options — such as energy efficiency, wind and solar — to meet the fuel needs of southeastern utilities.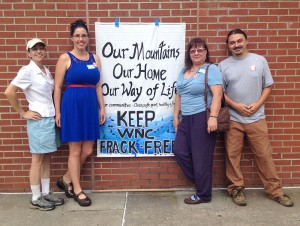 Appalachian Voices is working with citizens and organizations to build a strong statewide movement to ensure these concerns are heard. In the summer of 2014, we helped turn out almost 2,000 people for the Mining and Energy Commission's public hearings, the vast majority of whom spoke in opposition to opening North Carolina to fracking. The commission received an additional 217,000 written comments — again, almost all were opposed.
In September 2014, we joined more than two dozen environmental and social justice groups to hand deliver a petition with close to 60,000 citizen signatures calling on Gov. McCrory to reinstate the fracking ban in North Carolina.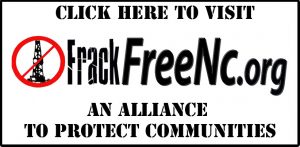 What's Next
Appalachian Voices and our partner organizations will continue pressuring the legislature to reinstate the moratorium on fracking. Our priority is to amplify the voices of concerned citizens, stop further investment in outdated, dirty fossil fuels, and vigorously advocate for clean energy as a safer, cleaner, more just and more sustainable way forward.