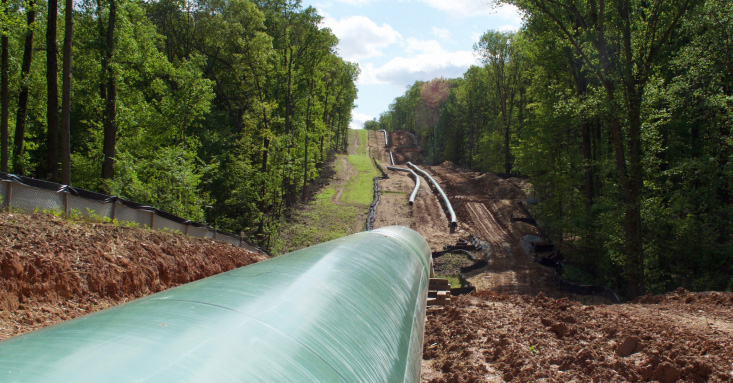 On Sept. 16, 2016, the Federal Energy Regulatory Commission released its Draft Environmental Impact Statement for the proposed Mountain Valley Pipeline. The 42-inch pipeline would transport natural gas from wells in West Virginia and stretch 301 miles over sensitive agricultural and forest lands — including a crossing of the Appalachian Trail — before reaching its destination in southern Virginia.
The FERC staff state in the draft impact statement that the project will have permanent adverse impacts on forests, yet it believes that the project can move forward!
FERC needs to hear from the public. The potential for injury or property damage along the pipeline route is real. The pipeline puts public health and safety at risk — whether from an explosion, or from leaks that pollute drinking water, soil, and air. In addition, constructing the pipeline will spoil thousands of acres of forest and permanently fragment habitats for several federally-listed threatened or endangered species.
There is a 90-day public comment that opened with the release of the draft impact statement. This is your best opportunity to make sure FERC hears your voice. Submit an electronic comment on our No Mountain Valley Pipeline Action page. You can also attend one of the official FERC public listening sessions. At these sessions you will have the opportunity to offer your comments for the official FERC record. All comments must be submitted on or before Dec. 22, 2016.
FERC Public Listening Sessions
November 1, 2016 @ 5 p.m.
Chatham Va.

— Chatham High School — 100 Cavalier Circle

Weston, W.Va.

— Lewis County High School — 205 Minuteman Drive
November 2, 2016 @ 5 p.m.
Rocky Mount, Va.

— Franklin County High School, 700 Taynard Road

Summersville, W.Va.

— Nicholas County High School — 30 Grizzly Road
November 3, 2016 @ 5 p.m.
Roanoke, Va.

— Sheraton Hotel, 2801 Hershberger Road

Peterstown, W.Va.

— Peterstown Elementary School, 108 College Drive
November 9, 2016 @ 5 p.m.
Coal Center, Pa.

— California Area High School, 11 Trojan Way