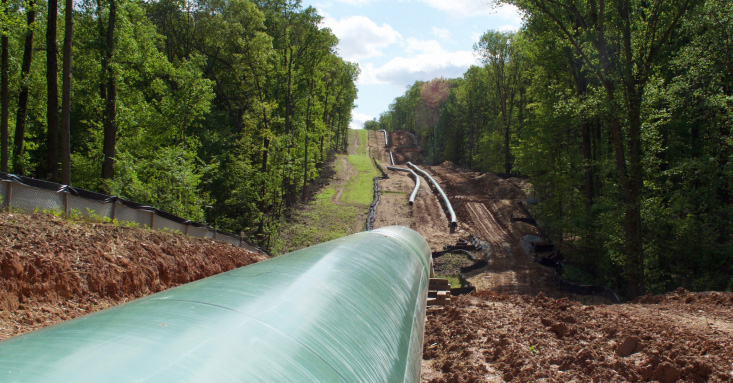 West Virginia Water Quality Permit Public Comments: The West Virginia Department of Environmental Quality is currently accepting public comments on state water quality permits for the Mountain Valley Pipeline. Developers must acquire these permits before the pipeline can be built. Written comments are being accepting via email and mail now through March 19, 2017 at 8:00 pm. There will be public hearings starting at 6:00 pm on March 6, 7, and 9. Attend a public hearing or submit online comments.
Current Status: Great news!! Due to an overwhelming number of public comments outlining the deficiencies and inaccuracies in the Draft Environmental Impact Statement for the Mountain Valley Pipeline, the Federal Energy Regulatory Commission has delayed its schedule for completion of the environmental review.
The Mountain Valley Pipeline project's environmental impacts are currently under review by the Federal Energy Regulatory Commission. A Draft Environmental Impact Statement was published on September 16, 2016, and the agency received public comments on the document through December 22, 2016. FERC staff are currently working to complete a Final Environmental Impact Statement.
About the Mountain Valley Pipeline
The 42-inch Mountain Valley Pipeline would transport natural gas from wells in West Virginia and stretch 301 miles over sensitive agricultural and forest lands — including a crossing of the Appalachian Trail — before reaching its destination in southern Virginia.
The FERC staff state in the draft impact statement that the project will have permanent adverse impacts on forests, yet it believes that the project can move forward!
The potential for injury or property damage along the pipeline route is real. The pipeline puts public health and safety at risk — whether from an explosion, or from leaks that pollute drinking water, soil, and air. In addition, constructing the pipeline will spoil thousands of acres of forest and permanently fragment habitats for several federally-listed threatened or endangered species.
There was a 90-day public comment period on the release of the draft impact statement that ended Dec. 22.