June 11, 2016
New statewide on-bill financing program in Tennessee
Tennessee will be launching an energy efficiency program this fall that allows electric cooperatives to offer insulation, air sealing, and heat pump repair or replacement at no up-front cost to their members. The program allows members to pay back the utility through the savings on their electric bill. Contact your electric cooperative to ask them to sign up today! To find out more contact us at amy.kelly@appvoices.org or 865-291-0083.
Are you a Blue Ridge Electric Member? The annual membership meeting will be held on June 16 at 4:00 p.m. (registration starts at 3:30 p.m.) at their corporate office on 1216 Blowing Rock Blvd., NE in Lenoir, N.C. Members are invited to attend and to ask questions and provide comments, so we hope you will! If you plan to attend please contact Amber at amber@appvoices.org or 828-262-1500 to let us know.
Success in the High Country!
After two years of hard work by Appalachian Voices staff, volunteers, partner organizations and residents, Blue Ridge Electric Membership Corporation, the electricity provider for all or parts of seven counties in western North Carolina, is now offering an energy efficiency on-bill financing program called the Energy SAVER Loan Program. Read more about our success with Blue Ridge EMC.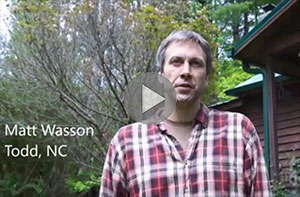 Matt Wasson, Appalachian Voices' Program Director, was one of the first Blue Ridge EMC members to receive efficiency improvements under the new program. Listen to his testimonial about the program and the benefits to his home.
One next step for the High Country campaign is to ask New River Light and Power, the electricity provider for the Boone area and Appalachian State University, to offer an energy efficiency on-bill financing program. If you're a New River Light and Power customer, sign our petition now!
Digging deeper into the benefits of energy efficiency
Two recent studies produced for our team show a significant need for energy efficiency in the region. The first followed the improved energy usage of the three families who won our 2015 Home Energy Makeover contest. And a Facebook survey revealed that 89% of respondents have difficulty paying their energy bills. Learn the full story in this press release.
If you missed our most recent webinar on energy efficiency, it's not too late. On our blog, you can watch the recording or look over the individual slides to learn about the economic impact that large-scale on-bill financing could provide for the region. Be on the lookout for the announcement of the second webinar which will delve into the impact of on-bill financing programs across the Southeast.
The community of energy savings
The Energy Savings for Appalachia team has a three-page spread in the new June/July issue of the Appalachian Voice. The article, entitled "The Changing Nature of Rural Electric Cooperatives in the 21st Century," describes how electric cooperatives are in a pivotal period and how their success during this transition is squarely in their hands. Check out the new issue in print or on our website later this week to read the article.
Powell Valley Electric Cooperative members, Barbara and Paul Taylor of New Tazewell, Tennessee have made energy efficiency a part of their family tradition. Read their story and learn how this East Tennessee family weatherized their home and passed along their knowledge through four generations. (Photo: Lou Murrey)
The newly formed national organization, We Own It, has launched a website which will help provide networking and development for cooperative members. For the launch of their website last week, they interviewed an Appalachian Voices volunteer, Mary Ruble, about her involvement in the Blue Ridge EMC campaign. Read Mary's story and check out the other resources available on the We Own It website while you're there. You will be asked to sign up with your email, name and zipcode to access the site.
Tips and Resources

Monthly Energy Savings Tip: 
Five tips to help keep you cool this summer



Air conditioning accounts for $11 billion in home energy costs across the nation and produces 100 millions tons of carbon dioxide. When it comes to cooling your home this summer, use the following tips to help reduce your home's energy burden and save money doing it. Check out this air conditioning infographic to learn more.

Use a programmable thermostat to set your home to 78℉, and set it higher when you are away.
Using a fan can feel 4℉ cooler than the thermostat temperature by creating a wind chill effect. But remember that fans cool people, not rooms.
Use curtains on the south and west facing side of your home to prevent heat buildup from the sun.
Clean registers and air filters, and make sure there isn't furniture or other other objects blocking airflow.
Make sure your ducts are sealed properly, or if you are using a window unit, replace the accordion style panels with rigid foam panels and seal them with duct tape to cut down on energy loss.

Do you have an energy savings tip to share? Please email amber@appvoices.org to submit your tip!


Forward this email to 5 friends
Take Action: Sign a letter to your cooperative supporting energy efficiency
Live in western N.C.? Host a free energy efficiency workshop at your church or local community group -- contact ridge@appvoices.org to set one up!
Send a letter to your local newspapers expressing your support for home energy efficiency. Contact amber@appvoices.org to get some tips.
Have you already made significant energy efficiency improvements? Share your story to help others see how they can experience the same benefits of comfort and lower energy bills. Contact amber@appvoices.org to learn how.