"Areas with especially heavy mining have the highest unemployment rates in the region; contrary to the common perception that mining contributes to overall employment." – Dr. Michael Hendryx
"History shows that the transition from deep to surface mining devastated the region economically, and that the prosperity of mining companies has not gone hand in hand with the economic welfare of coal mine workers….Central Appalachia has suffered from current and persistent economic distress, and that this distress "has been associated with employment in the mining industry, particularly coal mining." – Synapse Energy Economics 8-25-09, Economic Impacts of Restricting Mountaintop/Valley Fill Coal Mining in Central Appalachia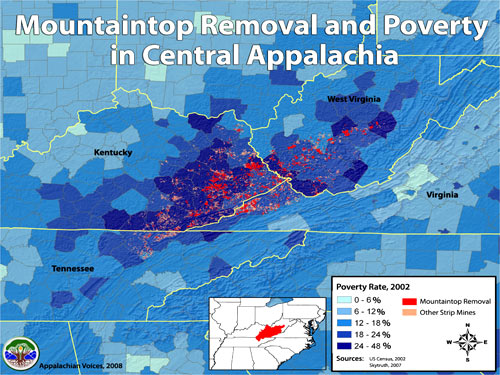 Devastating Impact on the Economy and Jobs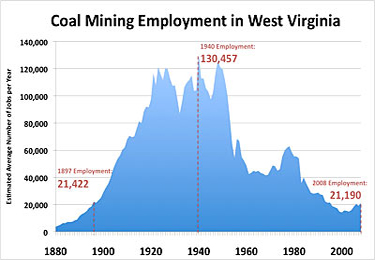 Mountaintop removal mining is designed to remove the miner from the process, replacing manpower with machinery, and lowering the coal companies' overhead cost. Coal mining employs fewer people today than it did at the turn of the last century, while at the same time coal production has dramatically increased. West Virginia, which once employed over 130,000 people in the mining industry, now has a coal mining workforce of about 20,000 miners. Declining coal production and productivity in central Appalachia will further this downward trend.
Mountaintop removal not only whittles away underground mining jobs, it also creates enormous barriers to economic development and diversification, by making the area less attractive for other industries, due to the pollution of the land, air and water. Coal mining communities in Appalachia shower higher rates of economic distress in proportion to the amount of mining that occurs there and significantly more than in non-coal mining communities.
"Of all the regions in this analysis, Central Appalachia has been one of the poorest performers in relation to the [Appalachian Regional Commissions]'s economic distress measure over time. Furthermore, and unlike all other regions in the U.S., current and persistent economic distress within the Central Appalachian Region has been associated with employment in the mining industry, particularly coal mining."
Impacts of Restricting Valley Fills on Coal Production and Electricity Rates
The Clean Water Protection Act (H.R. 1310) is legislation that would make it once again illegal for coal companies to dump their waste from mining operations into America's headwater's streams. The coal industry counters that disallowing valley fills would stop all coal production in the Appalachian region.
Hill and Associates, an independent risk management consulting firm, conducted a study reviewing the impact of regulating valley fills on coal prices in Central Appalachia. Their results show that stopping valley fills would decrease production by only 15%.
The 2003 EPA Environmental Impact Statement shows that stopping valley fills would have a less than 1% impact on electric rates. The cost savings of mountaintop removal coal on consumers is, at best, negligible.
North Carolina and Georgia are the top two consumers of mountaintop removal coal in the country. However, they are also generally in the top five states that pay the most for burning coal for electricity. There are cheaper options, and other ways to get coal.
The Need for Economic Diversification in the Central Appalachian Coalfields
"The state's most productive coal seams likely will be exhausted in 20 years. And while coal will remain an important part of the economy, the state should emphasize green job development." – Congressman Nick Rahall (WV-03), WV State Journal
Production Decline
Even the coal industry's biggest supporters recognize Central Appalachian coal production is in permanent decline.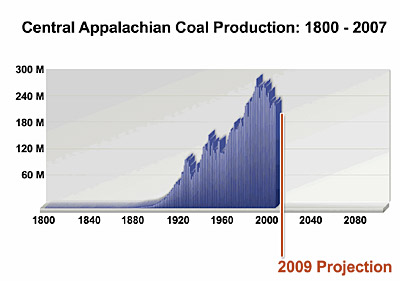 In 2009, coal production declined 7.8% across the United States. However, the trends in Central Appalachia are much starker. In southern West Virginia production fell 12.9% last year, eastern Kentucky production was down 14.4% and southwestern Virginia saw a production decline of 17.8%.
Central Appalachian coal is already the most expensive coal on the domestic market. The declining availability of central Appalachian coal will mostly likely mean that prices will only continue to rise in comparison to other domestic coal.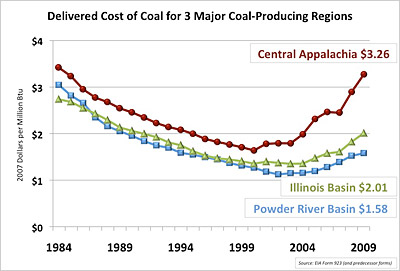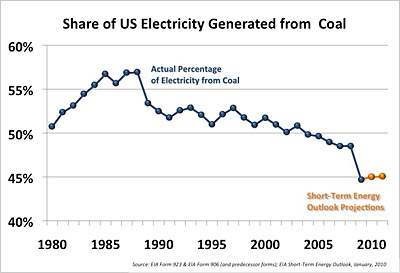 Whether or not mountaintop removal mining is ended, the number of coal mining jobs will continue to decrease, therefore Appalachian leaders on local, state and federal levels need to create a blueprint for sustainable economic diversification for retiring Appalachian coalfields sooner than later. The Appalachian Regional Commission states:
"…regional economic development is most likely to take place when national policies create the conditions to support it. As such, addressing persistent distress would seem to require a renewed national commitment, similar to the one that inspired the establishment of the ARC and the regional development policies of the 1960s."
West Virginia University researcher Michael Hendryx offers some alternatives:
" It seems prudent to examine how more diverse employment opportunities for the region could be developed as a means to reduce socio-economic and environmental disparities and thereby improve public health. Potential alternative employment opportunities include development of renewable energy from wind, solar, biofuel, geothermal, or hydropower sources; sustainable timber; small-scale agriculture; outdoor or culturally oriented tourism; technology; and ecosystem restoration.
Further Economic Studies and Resources
There are numerous studies showing the negative impacts of current mining practices, and the tremendous economic potential of an Appalachia without  mountaintop removal. Here are some good places to begin learning more.
- Mountaintop Mining Consequences
Science, Dr. Margaret Palmer, 2010
- Mortality in Appalachian Coal Regions: The Value of Statistical Life Lost
Dr. Michael Hendryx, WVU, 2009
- Education and Jobs, Jobs and Education: A proposal for funding economic development in Central Appalachia
Dr. Michael Hendryx, WVU, 2010

- The Economics of Coal In Kentucky: Current Impacts and Future Prospects
MACED, 2009
- Coal and Renewables in Central Appalachia: The Impact of Coal on the West Virginia State Budget
Downstream Strategies, 2010
- Coal and Renewables in Central Appalachia: The Impact of Coal on the Tennessee State Budget
Downstream Strategies, 2010
- Beyond Coal: a Resiliant New Economy for Appalachia
Solutions Journal, Todd, J. Doshi, S. McInnis, A., 2010
- Energy Efficiency in Appalachia: How Much More is Available, at What Cost, and by When?
Appalachian Regional Commission, Southeast Energy Efficiency Alliance, 2009
- Trends in National and Regional Economic Distress: 1960-2000
Appalachian Regional Commission, Wood, Lawrence E., Ohio University, 2005
- Draft Environmental Impact Statement on Mountaintop Mining/Valley Fills in Appalachia
U.S. Environmental Protection Agency, 2003