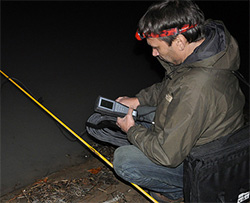 On February 2, 2014, a stormwater pipe at a shuttered coal-fired power plant in Eden, N.C., collapsed, sending 39,000 tons of coal ash and 27 million gallons of contaminated water into the Dan River. Coal ash coated the bottom of the river for miles, with mounds of ash five feet thick near the site of the spill and traces of the toxic waste evident more than 70 miles downstream. Turtle and mussel die-offs were documented along several miles of the river.
Appalachian Voices was one of the first groups on the scene, documenting what turned out to be the third largest coal ash disaster in the nation. Our water quality samples revealed contaminants such as lead, iron, manganese and arsenic that exceeded state and federal drinking water standards.
A year later
The crisis drew intensive local and national media coverage and amplified a statewide grassroots movement to clean up Duke's coal ash dumps in North Carolina, all of which are polluting nearby waters. Yet, there has been little action by the utility or government officials to address this crisis.
Duke spent six months cleaning up just 10 percent of the ash in the Dan, then called it quits. A federal criminal investigation into the incident is still pending. And while the state legislature, facing intense pressure from citizens, managed to pass the Coal Ash Management Act, the new law lacks the urgency and enforcement necessary to meet the challenge.
For example, it fails to rank the coal ash impoundment at the Belews Creek Steam Station in Stokes County as a "high priority" site, which would trigger removal of the ash. This, despite the fact that the 342-acre site holds 20 times the amount of ash that was at the Dan River site, has been contaminating the nearby waters for years, and is held back by an earthen dam that the Environmental Protection Agency says would kill people if it failed.
Appalachian Voices remains committed to keeping the spotlight on the problem of coal ash in North Carolina. We are particularly focused on the helping the communities around Belews Creek to press Duke Energy, DENR, the governor and the state legislature to act swiftly to ensure their health and safety.
In our view, there is no such thing as a "low priority" community, so there should be no such thing as a low-priority for cleaning up a toxic site.