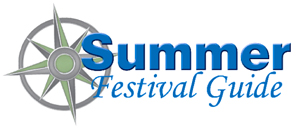 Is the arrival of summer like music to your ears? There's no better way to celebrate warmer days, longer nights and fantastic food than Appalachian summer music and arts festivals. Festivals are held all throughout southern Appalachia as a way of celebrating music, art, food, summer, community and history. From cultural bluegrass festivals to award-winning barbecue festivals, Appalachia has it all. Take a look at the list below and follow the links to your summer festival.
MerleFest
Thursday to Sunday, April 28 to May 1
Wilkesboro, N.C.
merlefest.org
Located at the Wilkes Community College campus, MerleFest is set to feature popular musicians including local legend Doc Watson, Red Molly, Freight Hoppers, Casey Driessen, Balsam Range, Town Mountain, Scythian, Lost Bayou Ramblers, The Kruger Brothers, Josh Williams Band, and many more. The festival will feature banjo and guitar contests, midnight jams, nature walks, jam camp and much more!
Parking is free.
Shenandoah Riverside Festival
Friday to Sunday, May 6 to 8
Strasburg, Va.
shenandoahriversidefestival.com
A benefit for the environment, EarthKorps presents three days of music and camping, featuring music from the Golden Butter Band, Future, The Vegabonds, The Delta Saints, Pants For Bears, and many more groups. Weekend passes: $40; Day passes $25; kids 15 and under are free!
French Broad River Festival
Friday to Sunday, April 29 to May 1
Hot Springs, N.C.
frenchbroadriverfestival.com
Come to the 14th annual French Broad River Festival — a three day music fest featuring live music from Boombox, The Bottle Rockets, Great American Taxi, Sol Driven Train, Snake Oil Medicine Show, Ryan Montbleau Band, and many others! Enjoy shopping at the live auction or at the many arts and crafts vendors.
Lake Eden Arts Festival (LEAF)
Thursday to Sunday, May 12 to 15
Black Mountain, N.C.
theleaf.com
The Lake Eden Arts Festival (LEAF) will be held at Camp Rockmont, in Black Mountain, N.C. LEAF is considered one of the most musically diverse festivals in the region. Each year, the festival is held both during the fall and spring. There are more than 60 performers, as well as a kids' village for children, handcrafts and poetry.
Ralph Stanley's Hills of Home Bluegrass Festival
Thursday to Saturday, May 26 to 28
McClure, Va.
drralphstanley.com
Features three days of live music from various bands, including Ralph Stanley and the Clinch Mountain Boys, Blue Highway, Bluegrass Mountaineers, Ralph Stanley II, Dailey & Vincent, and many more! Tickets: $35 for one day; $70 for two days; $100 for three days; children 12 years and under are free!
Fiddler's Grove Ole Time Fiddlers and Bluegrass Fest
Friday to Sunday, May 27 to 29
Union Grove, N.C.
fiddlersgrove.com
This year is the 87th Fiddler's Grove Bluegrass Festival. The festival features live
performances from various bands, and celebrates the history and culture of bluegrass
music.
Graves Mountain Festival of Music
Thursday to Saturday, June 2 to 4
Syria, Va.
gravesmountain.com/bluegrass.htm
This three day festival features live music by Donna Ulisse and the Poor Mountain
Boys, Goldwing Express, Balsam Range, The Boxcars, The Quebe Sisters Band, 

The James King Band, The Larry Stephenson Band, The Grascals, and many more.
Children under age 11 are free with an adult!
ROMP
Thursday to Saturday, June 23 to 25
Owensboro, Ky.
bluegrassmuseum.org
Three day music festival featuring live performances from Emmylou Harris, Steve Martin with the Steep Canyon Rangers, Carolina Chocolate Drops, Punch Brothers featuring Chris Thyle, and many more! Three day pass: $55 for students and $70 for adults.
Festival of Bluegrass
Sunday to Tuesday, June 9 to 12
Lexington, Ky.
festivalofthebluegrass.com
The 38th annual Festival of the Bluegrass celebrates the heritage of bluegrass music and the culture that flourished and thrived on front porches in the mountains of Appalachia. This Festival brings together not only the most exceptional bluegrass artists in the nation, but also a community of people who admire and treasure bluegrass and each other.
Blue Plum Festival
Friday to Sunday, June 3 to 5
Johnson City, Tenn.
blueplum.org
The Blue Plum Festival is an outdoor music and art festival that stretches across seven city blocks in downtown Johnson City, TN. The Blue Plum Festival is held every year on the first weekend in June. Over 80,000 people are expected to attend this free festival this year. Blue Plum Festival offers a variety of food vendors, musicians, artists, and tons of outdoor fun.
Blue Ridge BBQ & Music Festival
Friday and Saturday, June 10 and 11
Tryon, N.C.
blueridgebbqfestival.com
The 18th annual Blue Ridge Barbecue & Music Festival is preparing and expecting to be the best yet. The festival will be complete with a performance by country music artist Chuck Wicks, local craft vendors, the Classic Car Show, the Rubber Ducky River Race, and many more events and activities. Admission is $7, and children under 12 are admitted free of charge! Parking is free.
Bristol Rhythm & Roots Reunion
Friday to Sunday, September 16 to 18
Bristol, Va./Tenn.
bristolrhythm.com
The 10th annual Bristol Rhythm & Roots Reunion is a festival that celebrates the roots of Bristol as a country music epicenter. This festival takes place each third weekend in September, and is complete with 22 stages of live music, four outdoor stages, a dance tent and 16 indoor venues. A special free family event takes place on Saturday from 9 a.m. until 1 p.m. The mission of the festival is to celebrate the past, present and future of Appalachia's culture.
Athens Music & Art Festival
Wednesday to Sunday, June 22 to 26
Athens, Ga.
athfest.com
The Athens Music & Arts Festival is a popular event held annually in historic downtown Athens, a town recognized for its thriving music scene. For the past 15 years, AthFest has been used to exhibit the best in regionally and nationally recognized Athens-based talent. This year, around 200 bands and artists will perform on three outdoor stages and in over a dozen of the town's best music venues. The outdoor stages are for all ages and free of charge. AthFest will also feature a free Artists Market that has about 50 local and regional sculptors, painters, weavers, and other visual artists.
Festival In The Park
Friday to Monday, May 7 to 10
Roanoke, Va.
roanokefestival.org
This year's 43rd annual Festival in the Park will celebrate arts, music and family. The Festival will feature art and food vendors, musicians, a 5/10K run, and much more!
Pigeon Forge Springfest
Friday, March 11 to Tuesday, June 7
Pigeon Forge, Tenn.
pigeonforgespringfest.com
Springfest marks the beginning of springtime in the beautiful city of Pigeon Forge and is a celebration packed full of nearly three months of home-spun fun. Some of the events included are: A Mountain Quiltfest, the annual StringTime in the Smokies, The Dolly Parade, The Spring Grand Rod Run and Dollywood's Festival of Nations. Join the merriment on the Parkway as festive floats, marching bands and local celebrities pass by. Colorful flowers along the Parkway add to the jubilant parade atmosphere.
Bele Chere
Friday to Sunday, July 29 to 31
Asheville, N.C.
belecherefestival.com
This year marks the 33rd annual Bele Chere Festival in downtown Asheville. There will be four music stages, two food courts and hundreds of artists for Asheville's annual street party. More than 300,000 people are expected to take in the sights and sounds of one of the Southeast's largest free festivals.
Mountains Days Festival
Friday to Sunday, July 22 to 24
Fallentimber, Penn.
pennsylvania-mountains-of-attractions.com
Mountains Days Festival is a family friendly, old-fashioned festival at Prince Gallitzin State Park in Fallentimber. The festival includes hayrides, helicopter rides, bonfires and mountain pies, and is located near the beautiful Glendale Lake.
Shindig On The Green
Saturday: July 2, 9, 16, 23, August 12, 20, 27, and September 3
Asheville, N.C.
folkheritage.org/shindigonthegreen.htm
This free festival series takes place on eight Saturday evenings this summer. Shindig on the Green features a stage show and informal jam sessions around the park. It will be held at the Pack Square Park, formerly known as City County Plaza. Locals and visitors venture downtown from sundown (about 7:00 p.m.) until 10:00 p.m. Concessions will be available. Come appreciate the culture of southern Appalachia by celebrating beautiful music and dance on a summer evening in the North Carolina mountains. The festival will be held on July 2, 9, 16, 23, August 13, 20, 27, and September 3.
Mountain Dance & Folk Festival
Thursday to Saturday, August 4 to 6
Asheville, N.C.
.folkheritage.org/75thannua.htm
The 84th annual Mountain Dance & Folk Festival celebrates the art of mountain dance and folk traditions. This summer's event will be held August 4-6, beginning at 7 p.m. each evening. It will take place at the Diana Wortham Theatre at Pack Place in downtown Asheville.