Working in coalition with national and state-wide environmental and social justice groups, we are once again seeking justice for clean water in Appalachia.
At 2pm today, Appalachian Voices and partners announced an intent to sue yet another coal company in Kentucky for violations of the Clean Water Act – this time with a single outfit wracking up more than 12,000 violations.
The company named in this newest suit is Nally & Hamilton, a mining operation based in Bardstown, KY and is one of the largest mining companies in eastern Kentucky.
Nally & Hamilton is not known for being a good neighbor to local residents. In one instance, ex-coal miner Elmer Lloyd's fish pond in Cumberland, Ky was completely destroyed by toxins, sediment, and mud flowing from a Nally & Hamilton owned strip mine above his home.
The notice against Nally and Hamilton alleges that the company may have filed false, potentially fraudulent, water monitoring reports with the state over the past three years, including cutting and pasting previous data in later reports in lieu of submitting actual data for each month. The suit also claims that the company repeatedly omitted legally-required data from its reports.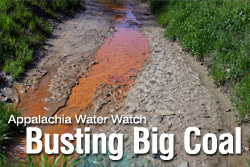 Appalachian Voices and its partners previously sued two other coal companies late last year in a legal case that has had as many twists and tangles as an errant patch of kudzu. That case currently has a court date set of June 14.
Appalachian Voices and partners, including Kentuckians for the Commonwealth, the Kentucky Riverkeeper, the Waterkeeper Alliance, teamed up with lawyers from Natural Resources Defense Council on this case.
Nally & Hamilton and the state government have 60 days to respond to the allegations.