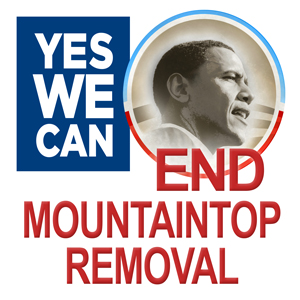 Today, President Obama took a dramatic step to reverse the Bush Administration's policies on mountaintop removal coal mining that have led to the destruction of hundreds of Appalachian Mountains and the burying of hundreds of miles of headwater streams over the past eight years.
This afternoon, Lisa Jackson, Obama's head of the EPA, announced a decision to suspend and review permits for two mountaintop removal mining operations, an action that effectively suspends more than 100 additional valley fill permits now pending that threaten to bury hundreds more miles of headwater streams and destroy dozens more Appalachian Mountains.
During the campaign, President Barack Obama expressed concern over mountaintop removal, stating "we have to find more environmentally sound ways of mining coal, than simply blowing the tops off mountains." However, people that are working to save their homes, mountains and communities across Appalachia have been waiting for a clear sign of how President Obama intends to proceed.
A recent editorial in the New York Times laid out in stark terms the choice with which President Obama was confronted:
The longstanding disgrace of mountaintop mining is now squarely in President Obama's hands.

A recent court decision has given the green light to as many as 90 mountaintop mining projects in Appalachia's coal-rich hills, which in turn could destroy more than 200 miles of valleys and streams on top of the 1,200 miles that have already been obliterated. The right course for the administration is clear: stop the projects until the underlying regulations are revised so as to end the practice altogether.
In making this decision, President Obama also took another step in fulfilling his campaign promise to bring science back to it's rightful place in guiding the decisions of federal agencies. Over the course of eight years, the Bush Administration ignored the advice and analysis of the best scientists and systematically re-wrote the rules to allow companies to dump mine waste indiscriminately into streams. They also sought to allow higher levels of arsenic, selenium and other toxic metals from mine runoff in drinking water.
Of course, there is going to be intense pressure by existing coal interests to release many of the permits – and the National Mining Association is already issuing sky-is-falling predictions of job losses if permits are not issued immediately. But people in Appalachia know that mountaintop removal destroys far more jobs than it creates. If mountaintop removal created prosperity it should have done so decades ago. Instead, the counties where mountaintop removal occurs are among the poorest in the nation, with high unemployment rates and rapidly dwindling populations.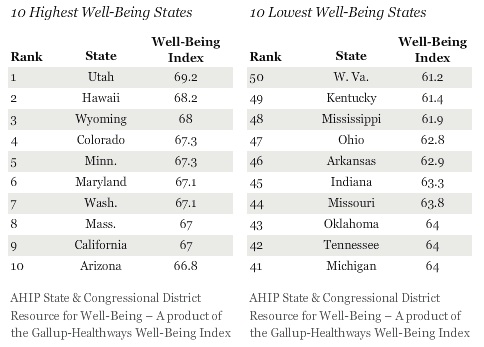 "Well-Being" Index by US State
A recent study by Gallup showed that the region where mountaintop removal occurs scored the lowest of any region in the nation for their "Index of Well-Being." In fact the three Congressional Districts in Southwest Virginia, Eastern Kentucky and Southern West Virginia where more than 90% of mountaintop removal operations are located were all among the bottom 2% of districts in the Gallup Survey.
But no matter how many jobs are created or lost in the Appalachian mining industry over the next few years, there's no question that mining jobs are on their way out. The Department of Energy projects Central Appalachian coal production will decline 25% in the next decade, and it's common knowledge that the Appalachian coal industry is undergoing a steep decline simply because the highest quality and easiest to access coal seams have long since been mined out. President Obama's longer term plans to address mountaintop removal should focus on replacing these mining jobs with new green jobs in clean and renewable energy industries, no different than his approach in other areas of the country.
And what better place to invest than Appalachia? Not only does Appalachia have the most to lose if the jobs lost in the old industries are not replaced with new jobs in emerging industries, but Appalachia is also blessed with abundant wind, biomass and hydroelectric resources that could create far more jobs than the few supplied by the mountaintop removal mining industry. This energy would supply eastern states with much-needed renewable energy as well. In fact, specific ideas and proposals to create green jobs in this region provide an incredible jumping off point for building a green economy. Here are just a few:
–
A recent report from the Appalachian Regional Commission
shows that Appalachian states can create thousands of jobs and save billions of dollars by investing in energy efficiency programs. Such programs would also cut energy use in the region by 24% over the next two decades.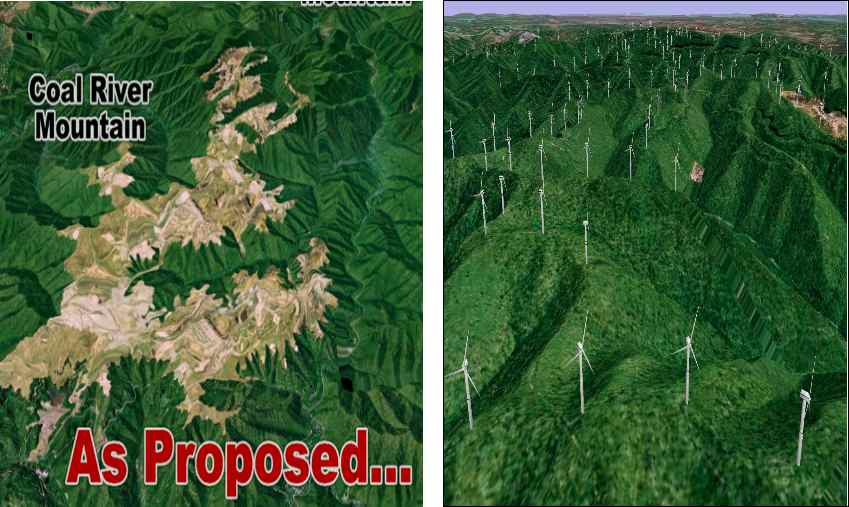 Mountaintop Removal Coal Mining VS. Wind Energy Development
– A group in West Virginia is proposing a wind farm on Coal River Mountain, which studies have shown has outstanding potential for industrial wind development. According to the Coal River Wind Project, this wind farm would immediately create 200 jobs during construction, and 50 permanent jobs during the life of the wind farm, generate 440MW of clean and renewable electricity, and still allow for concurrent uses of the mountain including harvesting of wild ginseng and valuable forest plants, sustainable forestry, and mountain tourism. The potential for wind development and other economic uses that would be permanently destroyed if the Obama Administration allows permits for more than 6,000 acres of mountaintop removal on this mountain to go ahead.
– Dominion Resources and BP announced a joint study in January on the possibility of developing wind resources in the coalfields of Southwest Virginia. In fact, the companies have gone so far as to purchase 2,560 acres of land in southwest Virginia's coal counties where they plan to conduct studies.
– The High Road Initiative in Kentucky is working to tap the talent of Kentucky's people and sustain the assets of Kentucky communities. This initative is providing small loans to support Kentuckians as entrepreneurs, workers and community leaders.
Despite all of the energy and commitment going into these projects, they simply cannot be successful if mountaintop removal is allowed to continue. The stark reality in the Coalfields is that few industries want to follow mountaintop removal. After all, what entrepreneur wants to open a new business in a community where massive blasts are cracking the foundations of people's homes, where hundred-year floods are an annual affair, and where the tap water looks like tomato soup and smells like rotten eggs?
But suspending permitting is not a permanent solution, and there are many other initiatives that President Obama should immediately get underway before the issues of mountaintop removal can be resolved. These include:


– Reversing Bush era rule changes the currently determine whether and how mountaintop removal permits are granted. This would include elminating the Bush "Fill Rule" that allows indiscriminate dumping of mine waste into streams as well as restoring the Stream Buffer Zone rule, which was eliminated in the Bush Administration's infamous 11th hour giveaways to industry in the waning days of the Administration.
– Require the EPA to conduct an extensive review of the impacts of additional mountaintop removal and to develop a new permitting process for surface mining in Appalachia and across the country that ensures transparency, public participation and scientific integrity.
– Initiate a green jobs program specifically in Appalachia that will develop new industries to replace the rapidly dwindling coal industry in the largely-exhausted Appalachian coalfields.
Across Appalachia, people are working for a better future. Community organizers are following in President Obama's footsteps working to empower historically poor and oppressed communities. We are developing plans to bring new jobs, new industries, and new hope to the region.
President Obama has done a lot to inspire a new era of hope across the country, and today he kept hope alive in the coalfields of Appalachia.